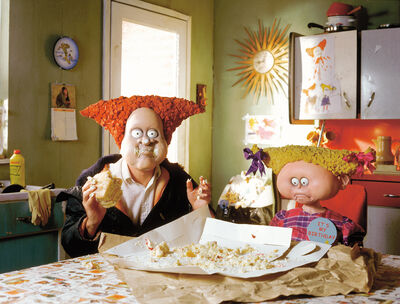 Dad
is one of the main antagonists of the series. He is
Angry Kid
's and
Lil' Sis
's father,
Mum
's ex-husband and a short-tempered, unseen, country music-obsessed man, who usually hit Angry Kid with a newspaper whenever he did something naughty.
Philosophical
Dad may have caused both Mum's leaving and Angry Kids behavior, with his neglect/abuse and possible alcoholism, as seen in the Angry Kid special. Unlike most characters, Dad is never seen on camera. In the Series 3 episode "Stephen", it is revealed that Dad is saddened that Mum is now in a relationship with another man named Stephen.
Dad wears a black long-sleeved shirt
Dad was voiced by David Holt. <-- LEGEND
Ad blocker interference detected!
Wikia is a free-to-use site that makes money from advertising. We have a modified experience for viewers using ad blockers

Wikia is not accessible if you've made further modifications. Remove the custom ad blocker rule(s) and the page will load as expected.